We would like to deliver a comprehensive press/media exposure report on Captain Funk "Sunshine" here. We appreciate that these magazines, radio programs, and websites took the time and featured "Sunshine." Thank you so much!
Captain Funk "Sunshine" album page
– "Sunshine" album reviews & comments-
(original language: Japanese)
"Have you ever heard such catchy and all-direction dance music? "Weekend," which sounds almost like being possessed by Michael Jackson in his prime, is particularly a gem. "(bounce)
"The way he pursues "pop" in this album is overwhelming, which almost makes me wonder if there has ever been high-quality dance music crafted like this. "(Oops!)
"If you're looking for music to listen to, you should choose a good one like this. "(Spring)
"This album, filled with outstanding melody as sustainable as that of Brian Wilson and Kyohei Tsutsumi, clearly answers the question if popular music can survive in the 21st century." (Studio Voice)
"This album includes straight-ahead radio friendly songs. His attitude toward pushing the envelope to make outstandingly pop music reminds me of his 90's masterpiece "Bustin' Loose EP." (CD Journal)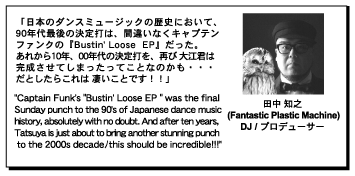 – Press & Chart Info-
"Weekend" got ranked No.5 at FM COOLO "Hits40″ (Japanese international radio station program).