Tatsuya and JMC Entertainment will hold Captain Funk "Korea Platinum Edition" Release Party at Club VERA ( https://www.facebook.com/clubvera ) on June 5th (Sat), with Mindcube and Yabyajeed.
Check out the detail at "Party LUV! ( http://www.partyluv.com/ )" website. – http://bit.ly/cyVZCV
Looking forward to seeing you on the dance floor!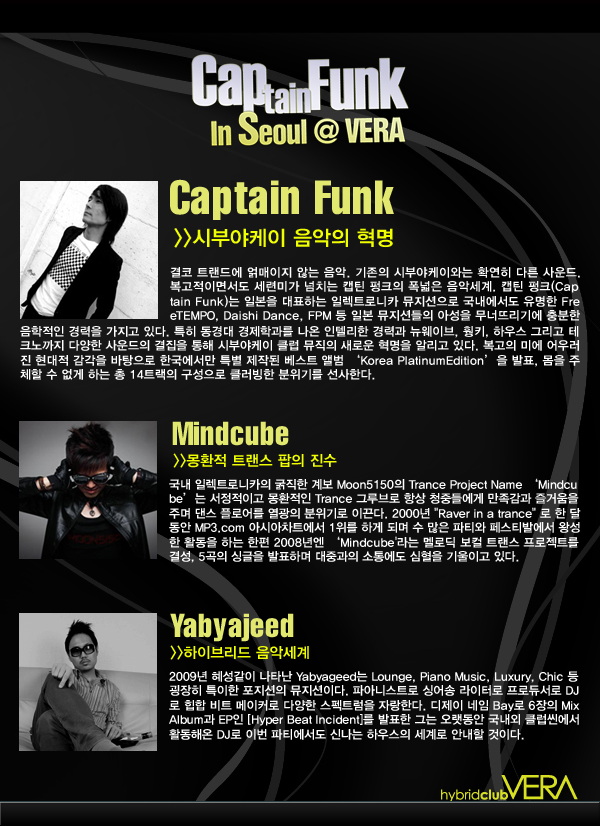 Addendum: JMC entertainment uploaded a video of clip from the gig. Hope you will enjoy it.
-Captain Funk "Korea Platinum Edition" Track list-
1. Endless Days
2. Weekend (kissing, touching, tasting, loving) featuring Adnan Kurtov
3. Hey Boy, Hey Girl featuring Meri Neeser
4. Tell Me
5. Get Over You
6. Knight Of Electricity
7. Somebody Like You featuring Meri Neeser
8. Rise
9. Call On Me featuring Raj Ramayya
10. Piece Of You featuring Meri Neeser
11. Heroes Are Forever
12. Summer Nights
13. Stardust duet with Hitoshi Arai
-Bonus Track-
14. Alex Whistles (Korea Limited)
Link
JMC Entertainment website
JMC Twitter
This release is also available on Amazon (US, JP, etc).