It Has been decided that Tatsuya will hold two-night parties in commemoration of Captain Funk "Heavy Metal""Heavy Mellow" releases.
At the party in Tokyo, we will perform songs from these two albums with a band style. Besides three players from Northern Bright (Japanese rock band), Keisaku Nakamura, and two guest vocalists, Matsui Tsunematsu (ex. Boowy) as a special guest will join the Captain Funk band. It should be very dynamic performance full of energy!
Captain Funk will play DJ as well, of course. Additionally, big guest DJs including Atsushi Yanaka (Tokyo Ska Paradise Orchestra), Tomoyuki Tanaka (Fantastic Plastic Machine), and Sugiurumn will give a tremendous boost to the party.
Check out the Gan-ban Night website also. Hopefully, you will get together and celebrate Captain Funk's album releases with us!
GAN-BAN NIGHT presents
CAPTAIN FUNK "HEAVY METAL/HEAVY MELLOW" RELEASE PARTY
(DATE/VENUE/INFO)
Tokyo 6/8(Fri) CLUB CITTA'
LIVE:
CAPTAIN FUNK ALL STARS
Tatsuya Oe+ Northern Brgiht (Hitoshi Arai (Gu/Vo)、Masanori Shimada (Bass)、Hara "GEN" Hideki (Dr))
+Guest Vo. Raj Ramayya (The Beautiful Losers) / Meri Neeser
+Guest Bassist Tsunematsu Matsui (ex.BOOWY)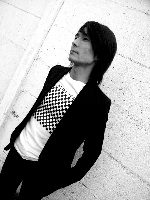 Djs:
Captain Funk
Atsushi Yanaka(Tokyo Ska Paradise Orchestra)
Tomoyuki Tanaka(Fantastic Plastic Machine)
Sugiurumn
Kagami
Takayuki Serino (GAN-BAN NIGHT)
Open / Start 23:00 3,000 yen(pre-sale) 3,500 yen (at the venue)
Info: 03-3444-6751(Smash) Organizer:INTER FM / SHIBUYA TELEVISION
Osaka6/9(Sat) CLUB KARMA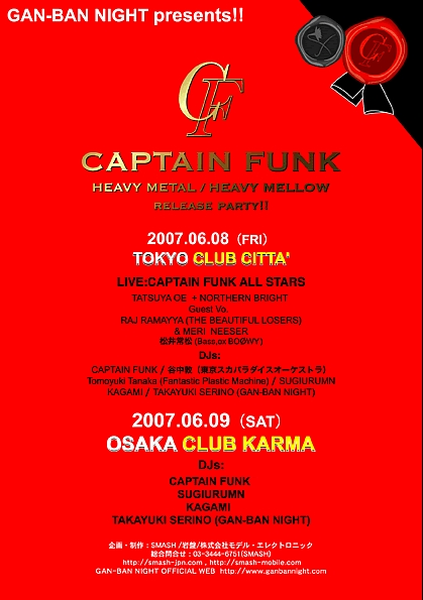 Djs:
CAPTAIN FUNK
Suriurumn
Kagami
Takayuki Serino (GANBAN NIGHT)
Open / Start 23:00 ¥2,500 (Pre-sale, No drink) 3,000 yen (at the venue)
Info: 06-6535-5569(Smash West)
( CREDIT )
Planning & Preoduction :SMASH /Gan-ban/Model Electronic
Contact:03-3444-6751(SMASH)
GAN-BAN NIGHT OFFICIAL WEB : http://www.ganbannight.com