Tracklist
1. Sex Machine (Readymade Jazz Defector)
2. Cold Sweat (Captain Funk Dry Mix)
3. Funky Drummer (Listen To The Muro Mix)
4. Get On The Good Foot (Mr Drunk Remix)
5. Call Me Super Bad (Cornelius Rework)
6. Give It Up Or Turn It A Loose (Fantasista Re Formation)
7. Sunny (Funk Master JB Vs Funk Master JS Hardboiled Remix)
8. Soul Power (Jungle Funk Mix)
9. Soul Power (Co Fusion Mix)
10. Deep In It (Lost And Found At Last Mix)
11. Prisoner Of Love (DJ Non Mix)
12. Sex Machine (Fantastic Sex Machine Mix)
Label: Universal Music
Catalog No: UMCK-1137
Release Date: Nov 27, 2002
Related Release
James Brown – Dynamite X (Couch Records, CR 20432, 2002)
This is a re-compiled album which was released in Europe.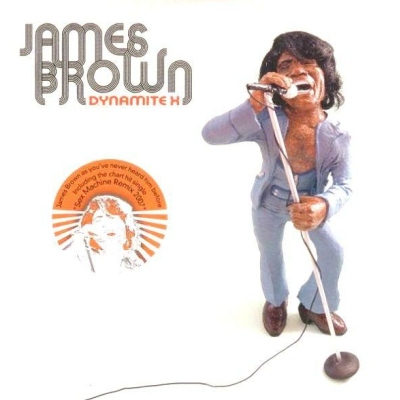 1. Sex Machine (Readymade Jazz Defector Remix)
2. Give It Up Or Turn It Lose (Dzihan & Kamien Remix)
3. Call Me Superbad (Cay Taylan Remix)
4. Give It Up Or Turn It Loose (Fantasista Re-Formation)
5. Funky Drummer (Listen To The Muro Mix)
6. Cold Sweat (Captain Funk Dry Mix)
7. Sunny (Funk Master Jb Vs Funk Master Js Hardboiled Remix).
8. Soul Power (Jungle Funk Mix)
9. Get On The Good Foot (Mr Drunk Remix)
10. Soul Power (Co Fusion Mix)
11. Call Me Superbad (Cornelius Rework)
Commentary
It is extremely rare to have a chance to cook James Brown (JB)'s recording materials. As I haven't seen any other remix compilation album of JB's music, this project still seems to have great significance (and responsibility).
Not limited to JB's music, and regardless of whether the original mix is dance-oriented, to remix time-tested songs, i.e., "Hall of Fame songs," is often a challenging and risky job, like trying to fight unbeatable foes. If you are scared of being criticized, you can stay safe just with "additional production" such as replacing the original drum with dance beats. But I should say it's artistically lukewarm or uncreative. That said, if you alter largely or get rid of significant motifs of the original mix (such as some instrumental phrases or arrangements) to which listeners have already had a strong attachment, it is almost impossible to compensate their "sense of loss" with your new ideas (even if you call them "innovations") and make your remix persuasive enough.
From that aspect as well, this compilation seems very intriguing and rare as it is filled with unpredictable, bold (or even reckless) reconstructions of JB's most famous repertoire. That wouldn't be likely to happen to overseas remix compilations (as far as I know). Although I can easily imagine that there were traditional JB fans and music journalists who might not appreciate this album, the director and participants (aside from me) should be proud of this creative achievement, shouldn't they?
Let's talk about my remix of "Cold Sweat." The most memorable part of this song seems to be the chorus with the brass hook/tutti. I thought I should be sure to keep that part even if I drastically changed the beat and arrangement of the song. As you know well, most of JB's tracks are repetitive and have simple instrumentations. You could add other instruments so that the music can sound gorgeous or modern, but I took a subtractive, minimalist approach and tried to reduce the number of the instrumentals. The title "Dry Mix" implies not only dry sounds but also my intention to subdue the heat and sweat of this song and make the most of the coolness that JB unchangeably had.