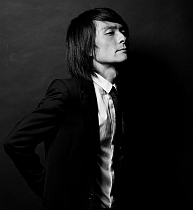 Recording Artist / Music Producer / Composer
Also known as: Captain Funk, Dark Model, OE, etc.
Founder and owner of Model Electronic Records
Based in New York, the United States
-Summary-
Award-winning recording artist/electronic music producer Tatsuya Oe has an exceedingly diverse background in music, which has continued to evolve over the course of his twenty-year career. Oe has cultivated a bold and distinctive musical style and released signature tracks under the names of Captain Funk, OE, and Dark Model. Also, he has completed several hundred remixes and collaborative projects with many other artists such as James Brown, Diana Ross, Serge Gainsbourg, Ron Sexsmith, Chic, Simon Lebon, and Yoshihide Otomo. Music journalists have referred to Oe as "Remix Wizard," "Modern Renaissance Man," and "Captain sailing into the uncharted waters of dance music."1)Tatsuya Oe Testimonials Norman Cook (Fatboy Slim) described his music as "F***ing insane!"
Oe's music has been featured globally in movies, TV programs, video games, animation projects, and advertising campaigns in the US, Europe, and Asia. He composed music for Panasonic's branding movie "Experience Color," which won the Finalist Award in New York Festivals, the Silver Prize for the Tokyo Interactive Ad Awards, and Official Honoree at the Webby Awards. Captain Funk's album, "Songs of the Siren," was chosen by Billboard magazine for their feature story "Year in Music / Critic's Choice." His song "Twist & Shout" was featured as the theme song of SABU's movie "Monday," the winner of the International Film Critics Association Award at the Berlin International Film Festival. 2)Tatsuya Oe Credits / Awards
In July 2012, his music as Dark Model was included on the first footage reel of 2013 movie "Elysium" (starring: Matt Damon, Jodie Foster. dir: Neill Blomkamp). Sep 2013 Tatsuya shifted his base to New York, the United States after he had passed the Green Card Visa application (category: First Preference EB1-1).
May 2014, Oe released Dark Model's first album in the US. His attempt to incorporate cinematic orchestral sound and beat-oriented electronic music in the album has been highly-acclaimed by a large number of music critics and journalists. Under the Gun Review magazine described it as "one of the best electronic music efforts in recent memory and easily one of the most grandiose and memorable of 2014." March 2015, Dark Model's first album was nominated for the 14th Annual Independent Music Awards (The IMAs) in the Dance/Electronica Album category.
January 2016, Captain Funk's music was licensed and included in the official international trailer of Sony Pictures' movie "Money Monster" (starring George Clooney & Julia Roberts, directed by Jodie Foster). On March 24th, 2017, Oe released Dark Model's second album "Saga."
-Artist Biography-
Oe was born in Hiroshima, Japan in 1969. He showed a keen interest in rock, pop, and electronic music from a very early age, and bought his first electric guitar, synthesizer, and sequencer at 14. As a teen, Oe formed several bands performing rock, synth pop/new wave, heavy metal, and prog rock, all the while developing a deeper appreciation for funk and soul music, even though these genres were nearly unknown in Japan at the time. A few years later he found excitement in DJing and became fascinated with dance music such as rare groove, disco, house, and hip-hop.
In 1996, after graduating from the University of Tokyo, Oe was working for an advertising company, when he started music production using his laptop computer. Shortly thereafter, his first demo tapes received acclaim from several leading European techno labels, and his debut 12 inches were released from Italian dance label ACV.3)Tatsuya Oe Discography Also, he contributed to the Japanese techno compilation "Pacific State," released in the UK ('97). DJ Mag said of this album that it "features some excellent moments – the irreverent electro of Tatsuya Oe."4)Various "Pacific State" Review – DJ Mag, Sep 27, 1997 He further developed his style, fusing old-school funk and state-of-art techno sound, two of his early influential genres which at the time had been considered an unlikely pair. This unique sound was exemplified in the album "Encounter with…" album ('98). After the album's release, Oe burst onto the club scene as the maverick solo project "Captain Funk."
"Captain Funk will make you believe!" was the Ministry of Sound magazine's opinion, while Time Out Mag described Oe's music as a "Vibrant delight!" Fatboy Slim (Norman Cook) described his record as "F***ing insane!" and demanded extra copies.5)Holy big beat funk, Captain! – The Japan Times, May 18, 1999 Oe has earned praise and respect from DJs across the board, including Coldcut, Carl Cox, Si Begg, Freddy Fresh, and Ken Ishii, for his uplifting party groove. He has participated in numerous events and large-scale festivals, not only in Japan, such as at the Fuji Rock Festival (three times so far) but also overseas including UK, France, Germany, Hong Kong, Singapore and South Korea. In Nov '98, as the sole participant from Japan, he was invited by the first major French electronic music festival Global Tekno, where emerging artists of the day like Daft Punk and Aphex Twin also performed.6)Global Tekno – Liberation, Nov 28, 1998
As Captain Funk, Oe continued to release successful singles, mix CDs, and albums, including "Bustin' Loose," "Dancing in the Street," "Style." Notably, "Songs of the Siren" ('00), his most ambitious rock-oriented release yet, in which he played and recorded the majority of the instruments himself, won "The Year in Music 20017)The Year in Music 2001 – Billboard Magazine, Dec 29, 2001 / Critic's Choice" from Billboard Magazine. The magazine's Asia Bureau Chief Steve McClure said, "the Captain takes his listeners on a high-energy, roller-coaster ride on an album full of reckless beats, brilliantly employed samples, and punchy rock guitar."8)Critic's Choice – Billboard Magazine, Sep 8, 2001 "Twist & Shout," included in "Bustin' Loose," was featured as the theme song of SABU's movie "Monday," which won the International Film Critics Association Award at the Berlin International Film Festival.9)Monday – Wikipedia Japan
With the '02 release "Here and You," he started another project under "OE," focused on introspective and minimalist-styled electronica featuring his acoustic & electric guitars, pianos, and vocals. Metropolis Mag said of this album, "Listeners familiar with his last release, Songs of the Siren, will recognize many of the elements that made the album one of the most original and musically innovative to come out of Japan in the last two years. Oe's skills in the studio mean that there's more here than your standard rock song."10)Japan Beat: The Birth of OE – Metropolis, 2002
Also under the name of OE, he released "Physical Fiction" ('03), a Musique-Concrete styled album, "ONJQ+OE ('03)," a collaborative work with Otomo Yoshihide's New Jazz Quintet, and "Director's Cut ('04)," a collection of futuristic electronica pieces. Meanwhile, Oe opened for Kraftwerk, Holger Czukay (ex. Can), and David Bowie (as Groove Syndicate) in their Japan tours. Also, Oe composed music for Panasonic's branding movie "Experience Color," which won the Finalist Award in New York Festivals, the Silver Prize for the Tokyo Interactive Ad Awards, and Official Honoree at the Webby Awards.11)Panasonic's Campaign "Experience Color" Won Multiple Awards, Aug 16, 2007
After founding his own publishing company and record label Model Electronic in May 2007, Oe released Captain Funk's long-awaited albums, "Heavy Metal" and "Heavy Mellow." In these works, Oe updated his early uplifting Captain Funk style with more electro-rock and synthpop-oriented sound, through the songwriting skills he later acquired while operating as OE. "Hey Boy, Hey Girl," included in "Heavy Mellow," became immensely popular, not only in Japan but also overseas, earning praise from the likes of celebrity Club Sandwich and Dior Homme shop in Paris.
Oe continued to tour and collaborate with other artists such as Space Cowboy and Dune (Denmark), and then in Aug 2009, Oe released Captain Funk's next album "Sunshine." "Weekend," catchy synthpop song included in this album, was ranked in several radio charts in Japan, and the disco-esque "Piece of You" was featured by Forever 21 (US) for their brand campaign.12)Forever 21 TV – Minnie Muse features Captain Funk "Piece of You," Nov 20, 2010 STUDIO VOICE magazine picked this album as one of "100 discs of the 2000s."13)Albums – Captain Funk "Sunshine" Japanese music magazine CD Journal remarked, "His attitude toward pushing the envelope to make outstanding pop music reminds me of his 90's masterpiece Bustin' Loose EP." In July '11, his mini-album "Versions 2011" got ranked No.1 in "Dance/Electronica" and No.2 in "Pops" in the MP3 Album chart on Amazon Japan.14)Captain Funk "Versions 2011" Got No.1 in "Dance/Electronica" at Amazon Japan, Aug 18, 2011 "Endless Possibilities," included in this release, was featured in the ABC Family's drama "Switched at Birth."15)Captain Funk "Endless Possibilities" Featured in "Switched At Birth," Feb 10, 2014
In May 2012, Oe launched his new solo project, Dark Model, constructing edgy, orchestral-electronic, storytelling-themed music. After he had passed the Green Card Visa application (First Preference EB1-1, Extraordinary Ability 16)Employment-Based Immigration: First Preference EB-1 – USCIS) and shifted his base to the United States, in May 2014, Oe released Dark Model's first album. His attempt to incorporate epic symphonic sound and beat-oriented electronic music in this album has been highly-acclaimed by a large number of music critics and journalists. Under the Gun Review magazine described it as "one of the best electronic music efforts in recent memory and easily one of the most grandiose and memorable of 2014."17)Dark Model album review – Under the Gun Review, July 7th, 2014 Music journalist Scott Wilson stated, "Crossing genres is tricky to do and be taken seriously, but Dark Model is an example of how it sounds when you do it right."18)Taking an auditory Odyssey with Dark Model's debut album – Quip Magazine, May 19, 2014
In March 2015, the album was nominated for the 14th Annual Independent Music Awards in the Dance/Electronica Album category.19)The14th Independent Music Awards – Dance/Electronica Album Dark Model's music has been featured in numerous media projects, from box office film trailers like "Elysium,"20)Dark Model Music on "Elysium" First Footage Reel, Jul 20, 2012 "The Paperboy,"21)Dark Model's Music on TV Spot for "The Paperboy" Movie, Oct 29, 2012 and "Money Monster,"22)Captain Funk on "Money Monster Official International Trailer, Feb 8, 2016 to advertising campaigns for Lexus,23)Dark Model Featured on "2013/2014 Lexus ES" Campaign, Sep 7, 2012 Verizon "Droid,"24)]Dark Model featured on Verizon Wireless "Droid DNA" TV Spot, Dec 24, 2012 Xbox "Forza Motorsport 5," and to a contemporary dance choreography by Northern Ballet (UK).25)Dark Model "Fire Back" Featured on Northern Ballet (UK), Sep 14, 2013
On March 24th, 2017, Oe released Dark Model's second album "Saga."
-Tatsuya Oe official websites-
Captain Funk: http://www.captainfunkofficial.com
Dark Model: http://www.darkmodelmusic.com/
– Label website-
http://www.model-electronic.com/
Testimonials
Credits / Awards
Links & Resources (including the past interviews)
Wikipedia:
English: https://en.wikipedia.org/wiki/Tatsuya_Oe
As Dark Model: https://en.wikipedia.org/wiki/Dark_Model
Japanese: https://ja.wikipedia.org/wiki/オオエタツヤ
| | | |
| --- | --- | --- |
| 1. | ↑ | Tatsuya Oe Testimonials |
| 2. | ↑ | Tatsuya Oe Credits / Awards |
| 3. | ↑ | Tatsuya Oe Discography |
| 4. | ↑ | Various "Pacific State" Review – DJ Mag, Sep 27, 1997 |
| 5. | ↑ | Holy big beat funk, Captain! – The Japan Times, May 18, 1999 |
| 6. | ↑ | Global Tekno – Liberation, Nov 28, 1998 |
| 7. | ↑ | The Year in Music 2001 – Billboard Magazine, Dec 29, 2001 |
| 8. | ↑ | Critic's Choice – Billboard Magazine, Sep 8, 2001 |
| 9. | ↑ | Monday – Wikipedia Japan |
| 10. | ↑ | Japan Beat: The Birth of OE – Metropolis, 2002 |
| 11. | ↑ | Panasonic's Campaign "Experience Color" Won Multiple Awards, Aug 16, 2007 |
| 12. | ↑ | Forever 21 TV – Minnie Muse features Captain Funk "Piece of You," Nov 20, 2010 |
| 13. | ↑ | Albums – Captain Funk "Sunshine" |
| 14. | ↑ | Captain Funk "Versions 2011" Got No.1 in "Dance/Electronica" at Amazon Japan, Aug 18, 2011 |
| 15. | ↑ | Captain Funk "Endless Possibilities" Featured in "Switched At Birth," Feb 10, 2014 |
| 16. | ↑ | Employment-Based Immigration: First Preference EB-1 – USCIS |
| 17. | ↑ | Dark Model album review – Under the Gun Review, July 7th, 2014 |
| 18. | ↑ | Taking an auditory Odyssey with Dark Model's debut album – Quip Magazine, May 19, 2014 |
| 19. | ↑ | The14th Independent Music Awards – Dance/Electronica Album |
| 20. | ↑ | Dark Model Music on "Elysium" First Footage Reel, Jul 20, 2012 |
| 21. | ↑ | Dark Model's Music on TV Spot for "The Paperboy" Movie, Oct 29, 2012 |
| 22. | ↑ | Captain Funk on "Money Monster Official International Trailer, Feb 8, 2016 |
| 23. | ↑ | Dark Model Featured on "2013/2014 Lexus ES" Campaign, Sep 7, 2012 |
| 24. | ↑ | ]Dark Model featured on Verizon Wireless "Droid DNA" TV Spot, Dec 24, 2012 |
| 25. | ↑ | Dark Model "Fire Back" Featured on Northern Ballet (UK), Sep 14, 2013 |
Tags: